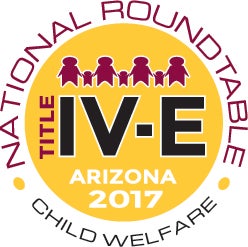 May 30, 2017: Over 225 attendees, representing 35 states and 6 tribal nations, visited Phoenix, Arizona May 23rd through 25th to attend the 21st annual National Title IV-E Roundtable conference.
Attendees participated in four plenary sessions focused on: 1) Social Work Education & University Partnerships; 2) Research, Evaluation & Assessment; 3) Training & Workforce Development; and 4) Collaboration & Partnership. Twenty roundtable break-out sessions followed each plenary to allow participants to learn more about what state partners have had success with in each area, as well as to learn from challenges and opportunities. The afternoons of Day 1 & Day 2 provided skill-building opportunities with two national Title IV-E experts, Don Schmid and Carl Valentine, followed by opportunities for state & federal region action planning.
This year a special emphasis was made to invite and encourage states to bring their system partners. Thirty percent of attendees represented state/local or tribal child welfare; twenty-one percent represented programs supporting prospective social workers; twenty-one percent represented staff of agencies provide direct service to children and families; eleven percent represented state/local or tribal juvenile justice, court programs, or child & family attorneys; and seventeen percent represented other fields.
Don Schmid was honored at an evening reception and presented with the Center's annual award, Champion for Child Well-Being, and had the opportunity to meet one of the recipients of his endowed educational scholarship for Native American social work students, which has been in place at ASU's School of Social Work since 2004.
Next year's National Title IV-E Roundtable conference will be held in Portland Oregon.