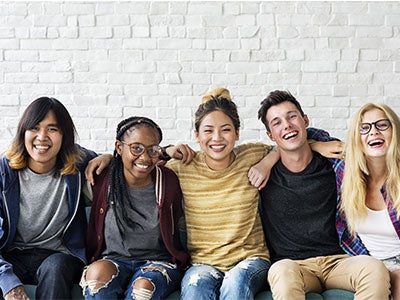 The Voice of the Youth:Foster Care and Social Emotional Well-Being

May is National Foster Care month. It began with President Regan in 1988 to bring awareness to the important role of foster care. This year, in honor of all those involved with the foster care system, CCWB is kicking off Foster Care Month with the voice of youth.
Young people living in out-of-home care, whether that is with foster parents, kinship caregivers (family or qualified friends) or some other type of residential placement such as a group home are presented with a number of challenges to their overall well-being. At a minimum, they have experienced a disruption to their family, their living circumstances possibly including their school, and in most cases have experienced trauma originating from exposure to the abuse and neglect that precipitated their involvement with the child welfare system. Seldom have we heard their perspective. As part of a larger evaluation study we interviewed 20 youth living in group care and in the custody of the public child welfare system. What they told us about their social emotional well-being fell into eight different areas or themes. Below are some quotes from the youth that reflect each area.
Ability to cope with adversity. "I need the support of staff and peers who have similar experiences to help me cope. Listening to music, playing sports, drawing, and talking with other youth in group home also help me cope."
Prioritizing academic success. "I want to go to college and make something of myself."
Learning to be happy during difficult times.  "I think if you are sad all of the time, you aren't doing well. But if you feel happy and laugh and can relax even though that's a bunch of bad stuff going on, you're doing well."
Expanding my vision for the future.  "I guess I just don't know where I'll be when I turn 18 though or what I need to go do. I'm not like the other kids in school who know what they're doing. I need more help."
Seeking normalcy. "Having something simple like the food I like to eat at home would go a long way. Not every kid likes the same stuff… It would be nice if I could have friends over to the house like other kids or go to the mall. I can't even have a cell phone."
Managing my emotions. "I know I'm doing well when I control myself and make good. Like if someone tries to fight me, I just walk away. Everybody here's got problems. I used to get in fights all the time, but not anymore."
Cultivating and maintaining relationships. "I don't have my old friends here. At the group home, we have to do everything together. We go to school together, and we live together. You develop a bond because you are always here. They're my friends now, too, but I miss my friends from home."
Dependency on adult perceptions. "I know I'm doing well when adults tell me I'm doing good. If I do something as simple as my chore, like, "good job" or when I bring my grades home, and I have good grades, "good job.""
There is a lot to be learned from listening to young people in out-of-home care. Understanding their conceptualization of social-emotional well-being presents opportunities for enhanced engagement and actions needed to promote their self-esteem, happiness and personal adjustment. It is clear that young people view their out-of-home caregivers as critical in influencing their ability to cope, achieve successful pro-social interactions, and make positive choices that will impact their futures. Quality out of home experiences matter.
Please click here to read the full details of the study  

The Arizona Department of Child Safety (DCS) Title IV-E Waiver evaluation supported this research. The opinions in this article do not necessarily reflect the views or policies of the Arizona DCS. For inquiries, please email Dr. Judy Krysik, Director of the ASU Center for Child Well-Being at judy.krysik@asu.edu
At the Center for Child Well-Being, we are passionate about foster youth, especially in Arizona. We are updating our blog with Foster Awareness Month articles and insight regularly. Please keep checking back as we share with you our research, our partners' work, and helpful tools to support this population.

Foster Awareness Month