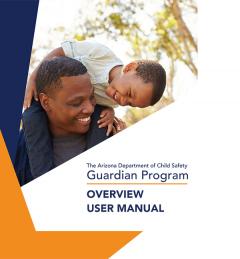 The Challenge: 
Arizona's Department of Child Safety (DCS) contracted us to create and deliver a suite of training materials for its 3,000+ employees. The topic? DCS's gargantuan new cloud-based case management and service delivery software. The kicker? We needed to develop materials while the software was still being designed and built.

 
The Project:
In Phase 1, we conducted a needs assessment at the agency and scoped the project. For Phase 2, we proposed an ecosystem of learning and development products to support employees and ensure a smooth transition to the new system. It included step-by-step user manuals, graphics-heavy desk aids, in-person curriculum, interactive online modules, and a visual learning library of short videos. We would also train a core group of "Super Users" --designated Guardian experts in each location -- and deliver in-person training to all staff.
 
The Timeline:
Our team embedded on-site at DCS in August, 2019 to begin working closely with subject matter experts for Phase 2. 
Fall 2019: Submitted our first sets of outlines for review

Winter 2019: Began submitting provisional versions of documentation

Spring 2020: Trained superusers via zoom. Finalized in-person curriculum.

Summer 2020: Delivered in-person training.

Fall 2020: Completed and finalized all deliverables.


 
The Hard Parts:
Continuity: We routinely developed and revised several pieces simultaneously as the software evolved. We relied on careful planning, strong design, custom style guides, collaboration tools, and near-constant communication to make sure products aligned in look, feel, tone, and content.
Covid-19: We shifted suddenly to remote work in March 2020, re-structuring all our Super User training for virtual delivery via Zoom. We completed the rest of the project remotely, relying on online collaboration tools to maintain team cohesion.
Technical blockers: Faced with a lack of sufficient training data in the software system, we created our own. When we encountered bugs or sudden changes to the software, we worked out a streamlined system for getting help.

The Results:
A complete set of training and support materials that aligned with the agency's policies and business processes as well as training software skills:
14 sections of User Manual, totaling 1270 pages
45 Desk Aids, totaling 95 pages
10 In-Person Curriculum packages, including scripted Facilitator Guides, Learner Activity Guides, and slide decks, totaling 53 hours of training time
11 interactive online learning modules, including 37 annotated screen capture demos
60 videos, totaling 377 minutes of high production value audio-visual instruction

Training delivered virtually and in person to DCS staff:
38 training and practice sessions for super users, totaling 83 hours
5 weeks of in-person training to staff at 15 locations, serving 3557 learners
We created and delivered it all in about 14 months.
The Team:
 Impact Instruction applies child-welfare knowledge, expert instructional design, and creative excellence to create high quality, high volume, high impact training materials that meet the needs of your organization. And we do it on time.